Farabloc Development Corporation
Farabloc Development Corporation is a private company headquartered in Coquitlam, British Columbia, Canada, a suburb of Vancouver. The company was incorporated in 1983 for the purposes of research and development focused on the product Farabloc. The company designs, develops and manufactures Farabloc, EMF shielding products and clothing.
The corporate mission is to develop Farabloc as a mainstream international fitness and rehabilitation product that can be used to reduce pain and to assist in healing.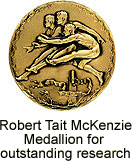 Board of Advisors
Douglas Bruce Clement, CM BSc MD FACSM, Professor Emeritus, Division of Sports Medicine, University of British Columbia, co-founder of the Allan McGavin Sports Medicine Centre
Cecil Hershler, MD, PhD, FRCP is a specialist in the field of Physical Medicine and Rehabilitation. He has served at the University of British Columbia as Clinical Associate Professor in the School of Rehabilitation Medicine and Director of the Residency Training Program, as well as Adjunct Professor in the Department of Mechanical Engineering.
Don Nixdorf, DC, co-author of the book Squandering Billions, a comprehensive analysis of Canada's health care system (Hancock House, 2005), a leader in a vast range of clinical trials of Farabloc with a diverse range of ailments.
Gerhard L. Bach MD, Professor of Medicine at the University of Munich, Germany. Former President of the International Society for Rheumatic Therapy. 
Tony van der Waarde, CP, the proprietor of Award Prosthetics, a Canadian leader in the field of prosthetic science and development.